BVRG : PORT - Nhawandyi / Nanda Beeyaa (I see you, killer whale)
Welcome to our latest pop-up gallery space, situated on the wharf in Eden at the brand new Welcome Centre.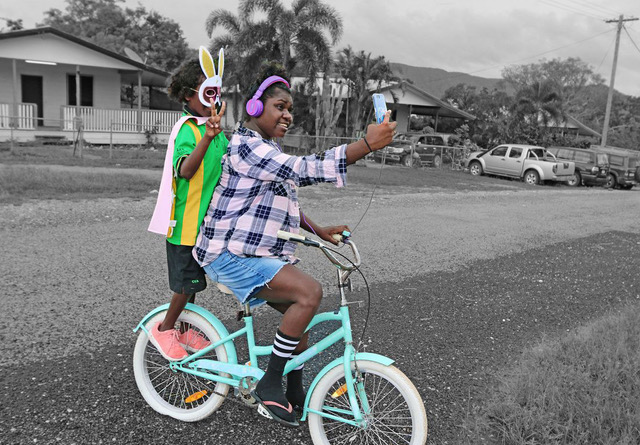 Naomi Hobson, Good Sister : "She told mum she was taking me for a ride down the road but she not." Laine 2019, digital print (detail), 81 x 110cm.
Courtesy of the artist. Bega Valley Regional Gallery Collection
Nhawandyi / Nanda Beeyaa - I see you, killer whale
30 April - 1 December 2021
First Nations works from the BVRG collection
Artists:
Tony Albert (Bindal and Wulgurukaba)
Lee Cruse (Yuin)
Cheryl Davison (Yuin)
Karla Dickens (Wiradjuri)
Gunyibi Gunambarr (Yolgnu)
Naomi Hobson (Kaantju and Umpila)
Lorna Napanangka (Pintupi)
Margaret Rarru (Galiwin'ku and La arra and Yurrwi)
Yannima Tommy Watson (Pitjantjatjara)
The Yarrabah Artists (Gunggandji)
---
Nhawandyi / Nanda Beeyaa, translates from the Thaua and Dhurga language to I SEE YOU, KILLER WHALE. A title for this exhibition I hope acknowledges the site of this exciting new pop up gallery space for the Bega Valley Regional Gallery.

The works in this exhibition have been acquired for the BVRG permanent collection through the generosity of donors, artists and purchased through funds donated to the BVRG by our visitors over the past 7 years.

There were no works by Australian First Nations artists in the BVRG permanent collection before 2014, beside the stunning painting Junga Hunter by local artist Lee Cruse. I am thrilled to present significant works from pre-eminent artists such as Yannima Tommy Watson and Lorna Napangati as well as works from Tony Albert, Karla Dickens, Naomi Hobson and Gunybi Gannambar in this premier exhibition at BVRG : PORT.

The artists in the exhibition are from Aboriginal Nations across the country and showcase visual culture both ancient and contemporary.

The importance of acknowledging and presenting First Nations visual art is central to the BVRG artistic program. First Nations visual arts provide a means of cultural expression and is a vehicle for the maintenance and transmission of culture.

Just as the sector as a whole provides enormous benefits, cultural, social and economic to First Nations communities, so too are First Nations artists able to bring these advantages both to their immediate communities, and to Australian society in general.

First Nations visual art has been said to be 'Australia's greatest cultural gift to the world' and 'our most profound, significant and important cultural export'.[1]
It is with this in mind that we launch this outstanding new gallery space with an exhibition that showcases the depth of expression First Nations visual art can bring to our community and to the visitors that pass through this amazing new facility.
Iain Dawson
Director
Bega Valley Regional Gallery
April 2021
[1] Minister for Indigenous Affairs, Senator Amanda Vanstone; Peter Garrett MP, quoted in Matt Price, 'Blacks' art "our greatest cultural gift"', The Australian, 29 November 2005.