The BVRG is currently monitoring updates in response to the Coronavirus (COVID-19). At this point in time, the Gallery and its exhibitions are remaining open to the public with normal visiting hours. We are taking steps to minimise the risks to our community, our artists and our staff. As such we will not be proceeding with planned public programs including our Creative Kids school holiday workshops, school tours and After Work Art programs until 30 April. This decision takes
place as of today but we will keep in touch as things progress. Our website is up to date with our current exhibitions and we are exploring alternative online programming so that you can access us online. We encourage you to support our artists and our program by keeping in touch through our social media channels. We thank you and appreciate your support in these challenging times.
BVRG will be open after hours on the last Thursday of each month for workshops, events, live music and a chance to catch up with friends and view the latest exhibition.
---
Subversive Ceramics with Sarah Murray
February 27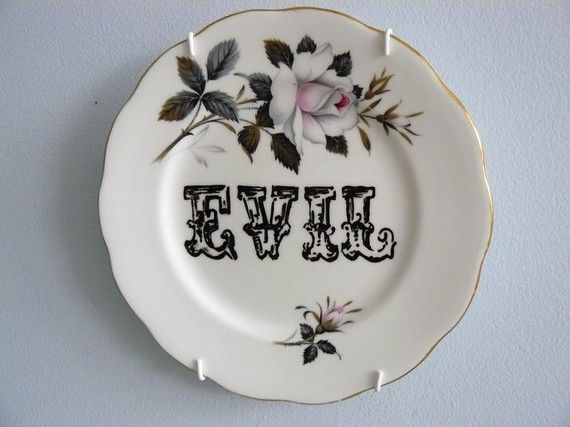 For our first AFTER WORK ART event, join local ceramicist Sarah Murray & create your own subversive ceramic plate!
This workshop will celebrate the subversive and coincides with our current exhibition CRAFTIVISM : Dissident Objects & Subversive Forms, touring from Shepparton Art Museum.
Sarah will lead a workshop in decorating a ready made ceramic plate, which will then be fired and returned to participants. Bring your political slogans, your cheeky catchphrases and your second best friend for a fun night of crafty dissention!
Sarah Murray describes herself as a 'self taught compulsive creator', with a background in textiles and fibre arts, including feltmaking, spinning and dressmaking. Ceramics have been a long time passion too, but it wasn't until an open studio class was offered at her local potters society, that she really began to pursue ceramics seriously.
Sarah likes to make functional ceramics (cups, beakers, bowls, vases and plates) using both terracotta and stoneware clays. She is obsessed by colour, pattern and texture, and a long-held passion for vintage textiles has influenced her colour palette and style.
You can view Sarah's work at her ETSY store here.
---
Cross Stitch & Cocktails
March 26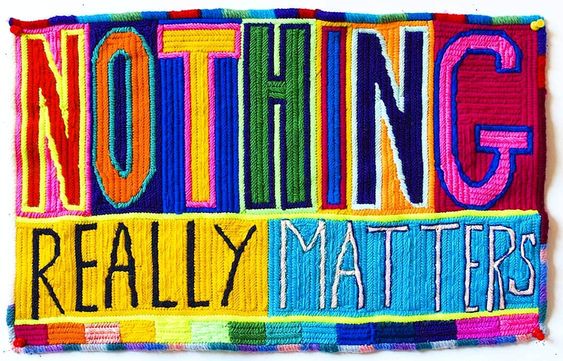 Paul Yore, Nothing Really Matters, 2016, Wool needlepoint, 29 x 46.5cm
Cross Stitch and Cocktails!
Join us in the gallery for an evening of stitching while enjoying an after hours viewing of our current exhibition CRAFTIVISM : Dissident Objects & Subversive Forms, touring from Shepparton Art Museum.
Draw inspiration for your cross stitch piece from the artists in this exhibition who subvert and extend these forms as vehicles for activism and social change, broadening our understanding of craft-making traditions.
Never embarked on an embroidery project before? No problem! Cross stitch is great for beginners and our BVRG staff will be there to teach you the basics. This simple embroidery process leaves you with more time to finesse your design, have a cocktail and socialise!
All materials and refreshments included.