Balnhdhurr - A Lasting Impression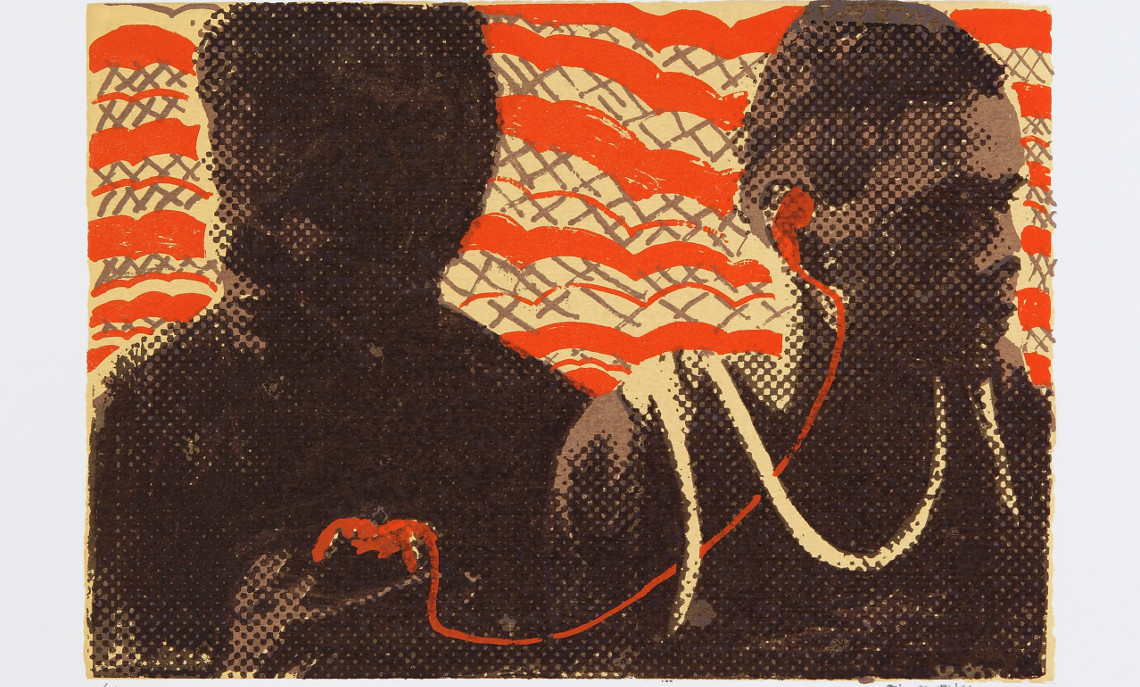 23 June - 8 September
In a remote corner of Arnhem Land sits Yirrkala Print Space, where, for over twenty years, the ancient craft of printmaking has not only survived, but prospered. A celebratory exhibition of this print space, Balnhdhurr – A Lasting Impression is presented by Artback NT in association with Buku-Larrnggay Mulka Centre.

Balnhdhurr – A Lasting Impression is a vibrant acknowledgement of the creative energies, talent and commitment of generations of Yolngu artists who have utilised and pushed the boundaries of such a medium to share significant cultural and historical stories.

'Printmaking is a guild craft and there are very few professional printmakers in the country so it is a surprise that a hotspot of this very technical and demanding skill is in remote Yirrkala in Far East Arnhem Land and has been for twenty years', said Will Stubbs, co-ordinator of Buku-Larrnggay Mulka Centre.

Louise Partos, Artback NT's Executive Officer, agreed adding 'Balnhdhurr is also an opportunity to celebrate the work of Buku-Larrnggay Mulka Centre, one of Australia's most extraordinarily influential and dynamic art centres dedicated to the maintenance and preservation of Yolngu law and culture'.

With works from 50 artists, this exhibition includes prints that are historically significant. The Berndt Etchings series talks about the Berndt Crayon Drawings of Yirrkala, produced by the artists' predecessors in 1947, while String Figure Prints are a response to another archaeological collection from 1948. Pieces in Balnhdhurr also reveal the significant impact the introduction of bright acrylics had on artists, which allowed them to explore a whole new genre of artistic storytelling that became a joyous explosion of colour and expression.

"Every print has to be the design of the artist's own clan or connecting clan. The design has to be done very carefully so as not to mix them up, and to understand their story. We have to talk about it with other people in that clan, so when the design is printed there is no problem. It's a similar idea to the traditional designs used in the bark paintings and the wood carving, but in printmaking we get the direction from our elders to design the image of the outside story only. In the workshop a lot of Yolngu come and watch what we do in the print studio so they can understand the process."

Marrnyula Mununggurr and Mundul Wunungmurra Mununggurr Balnhdhurr is a coming together of cultures and time, providing an opportunity for a wider audience to recognise the accomplishments of a sustainable, functional and thriving print studio operating in an isolated landscape. Yirrkala Print Space began in 1995 when a purpose built area was designed to host a printing press. With over 800 editions by 137 produced through the studio since then, Yirrkala Print Space has become an integral and vital component of the community.
---
Accompanying the exhibition is a free smartphone app that provides a deeper engagement with the artists and artworks as well as Yolgnu language and culture. An inclusive and dynamic way to introduce visitors to the exhibition, the app allows for more detailed interaction with the history and context of the Yirrkala Print Space. The app also includes audio descriptions of selected objects, a video tour of Miwatj country and educational activities.
Click here for online education kit or phone app, with some sample audios
---
Welcome to Miwatj Country from Artback NT on Vimeo.