Thoughts and Prayers - Collaborative embroidered wreath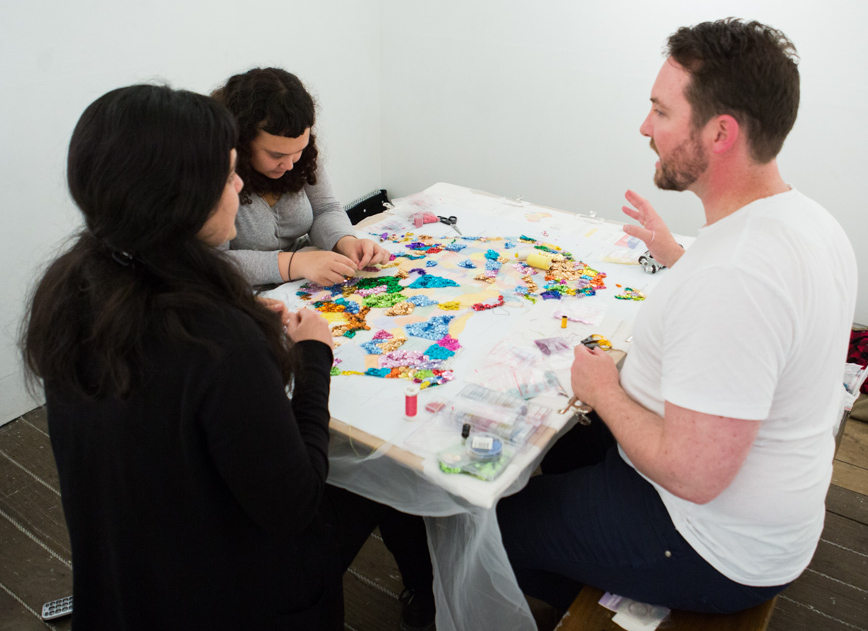 When : Friday 3 March & Saturday 4 March 2017 | 10am -12pm
Where : Bega Valley Regional Gallery, Zingel Place, Bega

Age: Adults & Kids over 14 welcome

Cost: Free
BOOKINGS ESSENTIAL CLICK HERE TO BOOK
In the lead up to HARMONY DAY 2017 the BVRG for a 1 or 2 day embroidery workshop where 'Young & Free' artist Liam Benson supports the communal creation of embroidered flowers for inclusion in a collaborative commemorative wreath.
Materials are provided with guiding instructions and support from Liam who will teach each participant how to sew beads and sequins onto fabric to create their embroidered flower.
The workshop will engage with participants through collaborative design and making whilst offering an opportunity for people to meet other people from the local community.
All participants have the option to contribute their work to the 'Thoughts and Prayers' project, in which the embroideries will be sewn together along with a multitude of other community made flowers to create an artwork for exhibition at Artereal Gallery in October 2017.
---
Liam Benson is a performance artist who documents his work through embroidery, photography, video and new media. Benson's work deconstructs the social perceptions of gender, race, culture, sexuality and identity by cross-referencing art, popular culture and media language. His work serves to celebrate the evolution of these social archetypes and explore the possibilities within the cross influence of socially entrenched identities and cultural and sub-cultural amalgamation.
Liam Benson has been prolifically exhibiting and performing since 2002. He has performed in various significant exhibitions including at the Museum of Contemporary Art, Sydney (2014), Sydney Contemporary Art Fair (2015; 2013), Cutlog New York Art Fair (2013), and as part of the Head On Photo Festival (2012; 2011). Benson also regularly works in collaboration with Naomi Oliver as the performance based duo, The Motel Sisters.
Liam Benson has been the recipient of numerous awards including the Arts Category of the Champions of the West Initiative (2014), Josephine Ulrick and Win Schubert Award (2013), the Hawkesbury Art Prize (2013), the Hazelhurst Art on Paper Award (2011), and the Contemporary Award category of the Fishers Ghost Art Award (2011). Benson's works are held in significant public and private collections including those of Artbank, the University of Western Sydney and the Art Gallery of South Australia.