ff
May 8 to June 19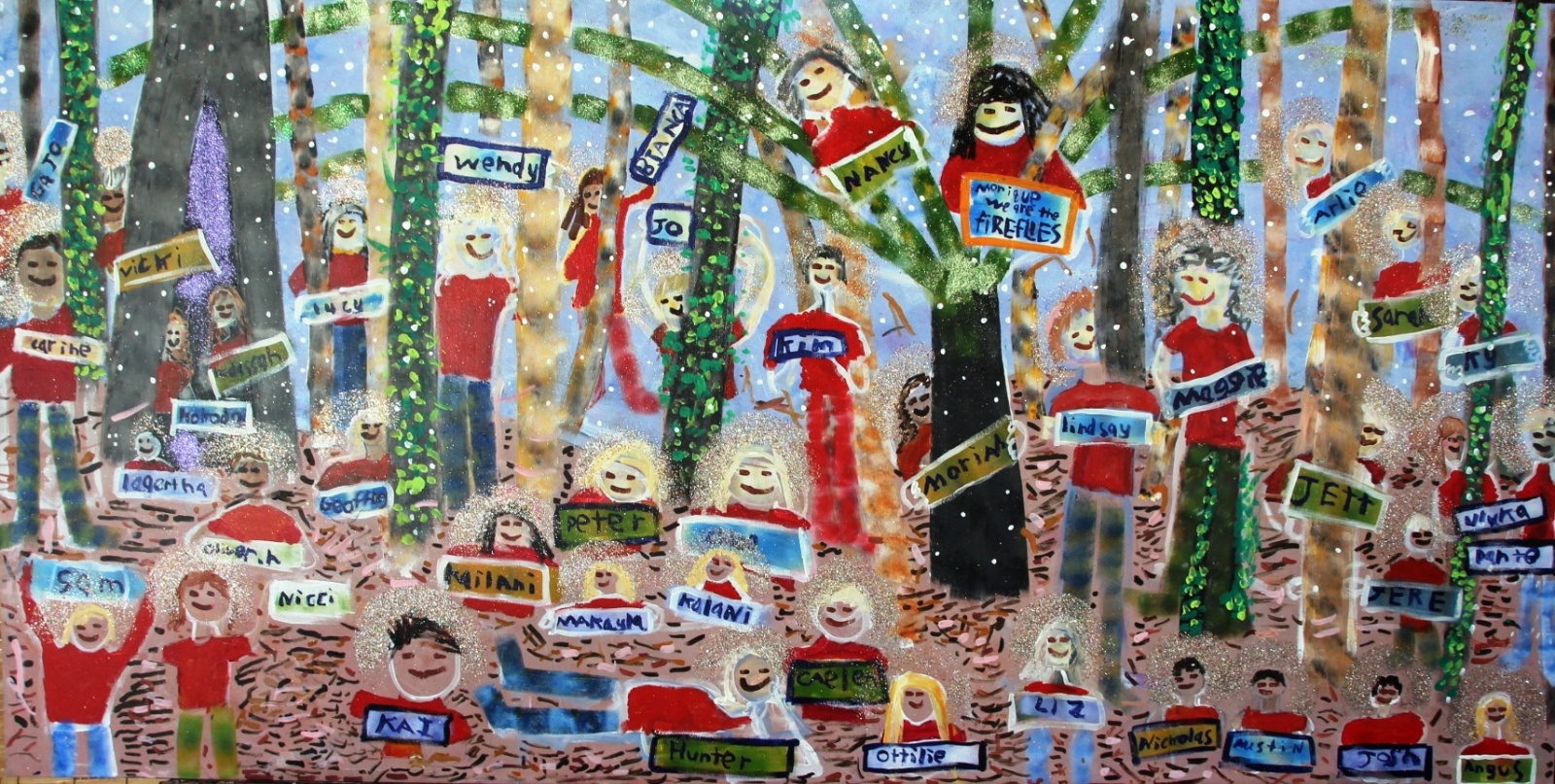 We Are The Fireflies 2020, 180 x 90cm Monique, Arlie Ottilie, Ester Moriah, Calan, Jere & Vicki
---
In January 2020 the entire Far South Coast of NSW was under threat from
the unprecidented bushfire emergency
that stretched the entire east coast of the state.
Towamba is a small community, in the Bega Valley Shire. It is located about forty minutes' drive west of Eden. At the 2016 census, Towamba had a population of 234 people.
Along with settlements such as Burragate, Pericoe, Rocky Hall and Kiah, Towamba was one of the settlements established after Benjamin Boyd began to open up the area to European settlement in the 1840s and 1850s.
This small community has had a public school since 1862 located in Towamba Street. After the emergency, when the Towamba township had been saved by local RFS crews, students from the Towamba Public School under the guidance of local artist Vicki McCredie embarked on an art making project that evolved into the Fireflies project. McCredie says "In the Christmas holidays 2019-2020 we had already planned to have art days. We had one before Christmas. Then there were the fires. Our Towamba kids made a thank you sign for those who were protecting us from the fires. Then we made another painting, one that has now become the first Fireflies painting. The paintings that now make up The Fireflies Collection evolved from our prior passion to paint and create and express ourselves. The project has unfolded organically. There were many disruptions to school. Kids came to my shed on many occasions where we took on the role of "educating others" about what had happened here through the fires. Some of the older kids took their own photographs, others chose images that could tell the story for them. "
Bega Valley Regional Gallery is thrilled to present this online exhibition of the works resulting from this incredible community art making project.