BVRG Creative Kids Summer Program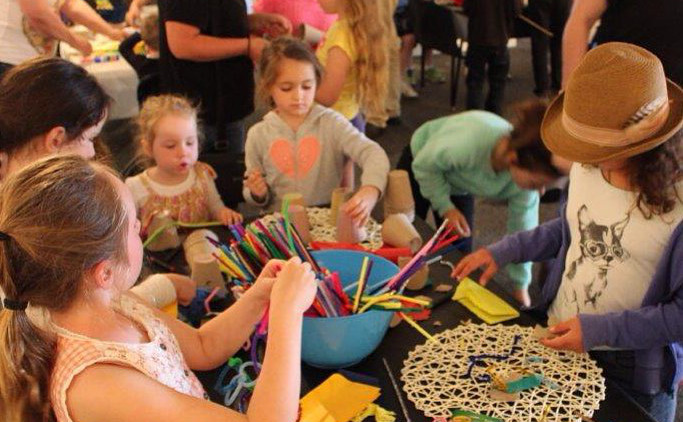 BVRG presents a weekly art workshop during January to keep creative minds busy over the summer!
Developed between gallery staff and professional educators, the program relates to the current exhibition JUSTENE WILLIAMS : The Curtain Breathed Deeply.
Our school holiday workshops are a fun, easy way for children to engage with new materials or processes and achieve a high-quality outcome. All materials are provided and participants will be able to take home a unique artwork!
Please make sure the participant is wearing appropriate clothing for a creative art making session.
Workshops will run each Wednesday in January 2018
The venue is the Bega Youth Space - the cottage next door to the Bega Court House, across the Zingel Place carpark from the BVRG
---

WORKSHOP ONE 5 - 10 year olds
Painting fun...
Date: Wednesday 3 January 2018
Session time: 11am - 12pm
Cost is $6.50 per child
Bookings Essential as places are limited.
---
WORKSHOP TWO 9 - 15 year olds
IN THE BAG! Painting workshop, using paint/chalk/pastels and large paper carry-bags
Date: Wednesday 10 January 2018
Session time: 10.30am - 12.30pm
Cost is $10 per child
Bookings Essential as places are limited.
---
WORKSHOP THREE 5 - 10 year olds
Make your own Dreamcatcher!

Date: Wednesday 17 January 2018
Session time: 11am - 12pm
Cost is $6.50 per child
Bookings Essential as places are limited.
BOOK HERE
---
WORKSHOP FOUR 9 - 15 year olds
Jewellery Bead Making
Date: Wednesday 24 January 2018
Session time: 10.30am - 12.30pm
Cost is $10 per child
Bookings Essential as places are limited.
---
Children's Workshops Frequently Asked Questions
Can I book my 4 year old into the junior workshops?
When we are thinking up a new idea for a workshop, we base it on what an 8 or 9 year old could reasonably do, and then we make sure the activity can be easily simplified or made more complex depending on the age of the participants. If you are confident your four year old would enjoy the experience, then this is fine, however you are required to stay and provide supervision and support for the child for the entirety of the workshop.

Can I book my 13 year into the workshops?
If your 13 year old is comfortable working amongst this age group or if you would like a 13 year old to join a younger sibling then it is fine. Please be aware however, we cannot allow children to sign themselves in or out of the workshops - you will still need to come into the Gallery to drop them off and pick them up.

Do I need to supply any materials for my child to participate in the junior workshops?
The Gallery supplies all the necessary materials for your child to participate in the workshops. Occasionally we may have one off workshops where children are required to bring in something from home; however, you will be notified of this upon booking.

Do I need to book my child in advance or can I just show up on the day?
Bookings are required in advance. Our school holiday workshops book out very fast; to ensure you secure the place you want to contact us as soon as you can, but it is also possible to take bookings on the day or the day before. Please note, your booking is not confirmed until payment has been made.

Is my place secured if I book via email?
If you are booking via email please note that it does not automatically secure your place - also, please be aware the email account is monitored during office hours Monday to Friday. You will receive an email from our Gallery staff confirming your booking and directing you to make payment. If you are unsure about your booking, we encourage you to call our friendly staff.

Do I need to arrive early for the workshop?
The workshops start on time, so we advise you arrive 5-10 minutes early to sign your child in and get set up before the workshop begins.

Do I need to stay with my child for the workshop?
You do not need to stay with your child during the workshop. Our Gallery Educators are very experienced and do a great job at running the workshops. You can take the opportunity to have an hour to wander around the exhibition; grab a coffee nearby or shop, alternatively you are welcome to stay nearby and watch things happening.

Will there be photos taken at the workshops?
We do generally have a photographer capturing all of the excitement during our workshops. You will be asked upon booking if you give permission for your child to be photographed. If you do not approve photography, we will make sure no photos of your child are taken on the day. These photographs will often be used on our website or in a flyer to promote future workshops - but if you prefer your child not to be photographed that can be easily accommodated.

Do I need to pack food and drinks for my child?
We have a no food and drinks policy in the Gallery, so we advise you eat before you come. We have water available for the children throughout the workshop to avoid children losing their special drink bottles.

​Can I get a refund if I can't make it on the day?
We will happily provide a refund if notified with 48 hours' notice or more. During the 48 hours prior to your booked workshop - we can reschedule your child's booking for another workshop in that holiday period (if there are places available). We strive to keep the children's workshops affordable for families, please be aware that last minute cancellations and refunds cannot be accommodated.